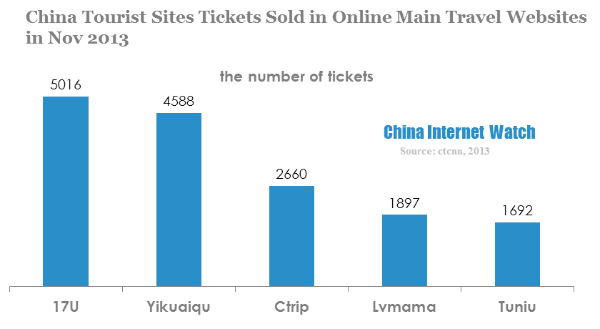 According to CTCNN, a Chinese travel industry finance media, it monitored 5 main online travel agencies' tourist sites tickets booking market in November 2013. 17u ranked the top with 5,016 tickets sold out online. Followed by Yikuaiqu, Ctrip, Lvmama and Tuniu. Except for 17u, the other four OTA experienced growth in November. 17u dropped 1% monthly, while Yikuaiqu went up with 11.3% MoM increase. Tuniu increased monthly by 12.4%, Ctrip and Lvmama both grew 3.2%.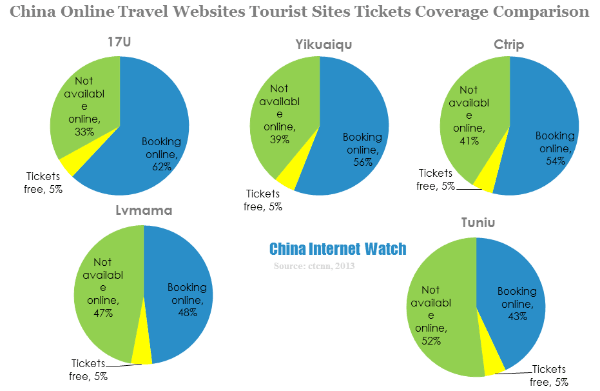 The data collected from 171 5A tourist sites tickets online booking in five main OTA showed that Yikuaiqu and Tuniu's 5A tourist sites coverage rate increased in November 2013. Yikuaiqu's 5A sites coverage rate went up from 41% to 56%, surpassed Ctrip and Lvmama and second only to 17u. Tuniu's 5A sites coverage rate increased from 40% to 43%.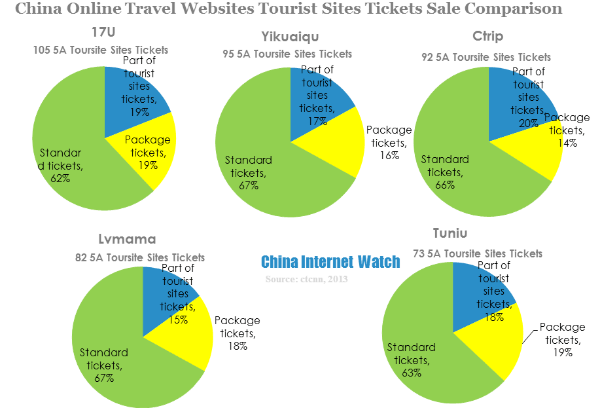 Online tourist sites tickets were divided into three categories: standard tickets, part of tourist sites tickets and package tickets. 17u ranked top in standard tickets, with 65 5A tourist sites which accounted for 62% of all. Yikuaiqu and Lvmama had the highest percentage of standard tickets, as high as 67%. In November, package tickets sold online kept decreasing, 17u package tickets dropped from 25% in October to 19% in November. Ctrip package tickets dropped from 23% to 22%, and Lvmama dropped from 16% to 14%.
Normally, November is the off season for tourism. However, Double 11 also created opportunities for OTA, many of them launched promotion discount products in package which stimulated consumers travelling demands, and affected their consuming habits to turn from offline to online and mobile end.