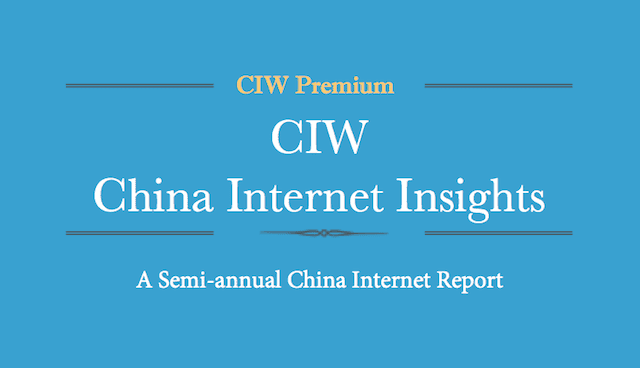 Latest update: August 2017. Access Level: CIW Premium (Quarterly & Annually)
NOT available for CIW Premium Monthly Billed subscribers
China internet users totaled 751 million as of June 2017 according to CNNIC. Internet penetration rate reached 54.3%. China mobile internet users totaled 723.6 million as of August 2017 and 96.3% of total internet users.
This 80+ pages of e-book provide some insights on China internet. Take a look at the content below.
Table of Content of CCII 2017
Chapter 1: Enterprise

China Enterprise Internet Usage including email, administrative tasks, antivirus & firewall, information systems (ERP, CRM, office automation, etc.)
Internet adoption rate for sales, purchase, marketing
Digital marketing channels, activities
Adoptions for new technologies (cloud computing, big data, internet of things)

Chapter 2: China Internet Users

Total number of China internet users and penetration rate 2005-2016
Total number of China mobile internet users and ratios of total internet users 2007-2016
Top 10 Chinese Regions by Internet Penetration Rate
China Internet Users: Urban vs. Rural Areas
China Internet Users by Gender, Age Group, Education Levels, Professions, Income Group
The Average Weekly Internet Access Hours in China

Chapter 3: China Internet by Industries

Top Categories of Internet Applications by Total Users in China
Third-party Online Payment
Third-party Mobile Payment
Fund E-Commerce Market
China Online Insurance Market
China P2P Loan Market
China E-Commerce Market
China Online Shopping Market
China Mobile Shopping Market
China Online Advertising Market
China Online Education Market
China Online Travel Market
China Online Gaming Market
The Most Popular Social Media Applications in China

Chapter 4: Mobile Apps Market in China

Top 10 App Store Apps in China by MAUs in 2016
Top Categories of Mobile Apps by Total Number of Users in China
Top Mobile Apps in China by Total Active Users
Top 5 Most Frequently Used Mobile Apps in China

Chapter 5: Digital Marketing

Digital marketing budget in 2017 including mobile, content marketing, social media, and social ads

Buy one-time access to this eBook here subscribe to CIW Premium membership here.
Alternatively, you can get the free copy of a simplified Whitepaper "China Internet Statistics" here. Or, download 2014 version here.