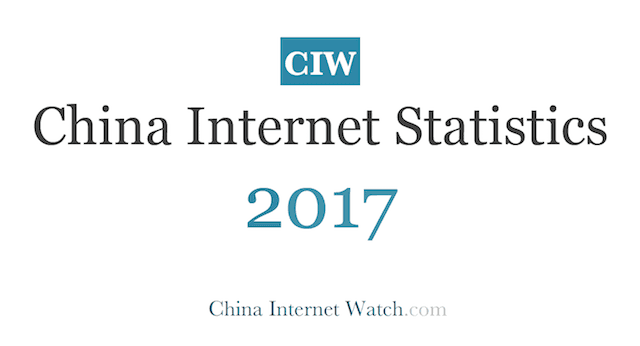 China internet users totaled 731 million as of Dec 2016, an addition of 42.99 million from Dec 2015. Internet penetration rate reached 53.2%, up 2.9 percentage points from 2015.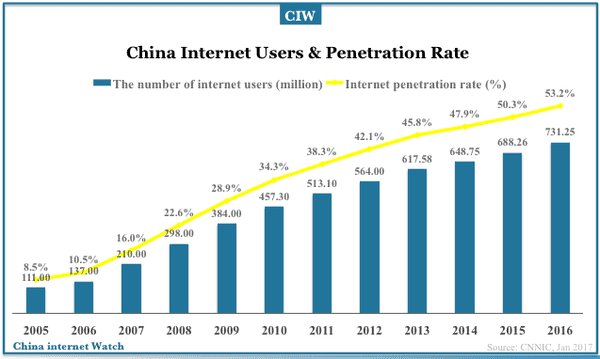 Smartphones are the top devices for internet access in China in 2016 with over 95% users, followed by desktop computers (60.1%) and laptops (36.8%).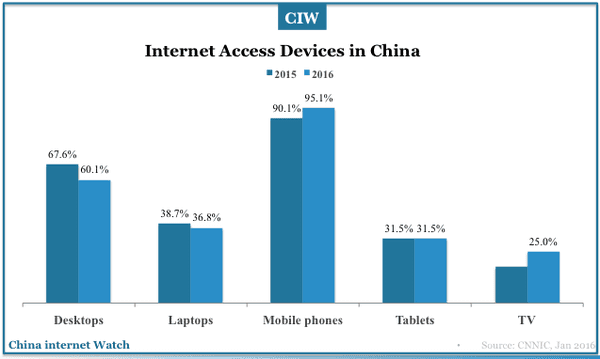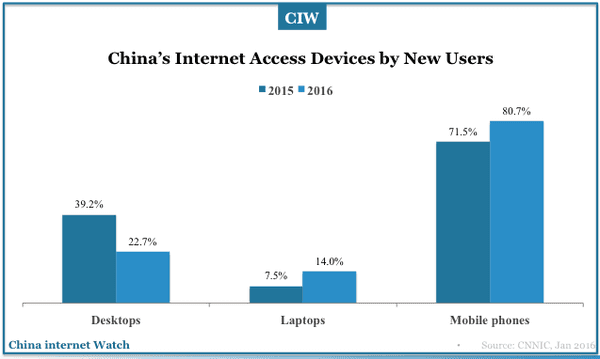 China mobile internet users totaled 695 million as of Dec 2016, an increase of 75.5 million from Dec 2015 and 95.1% of total internet users.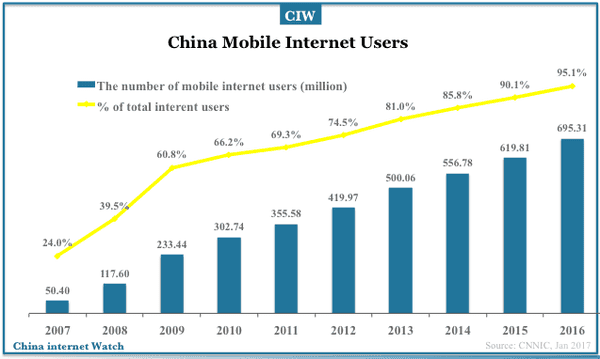 Beijing, Shanghai, and Guangdong are the top 3 regions in China with the highest internet penetration rates of over 74%.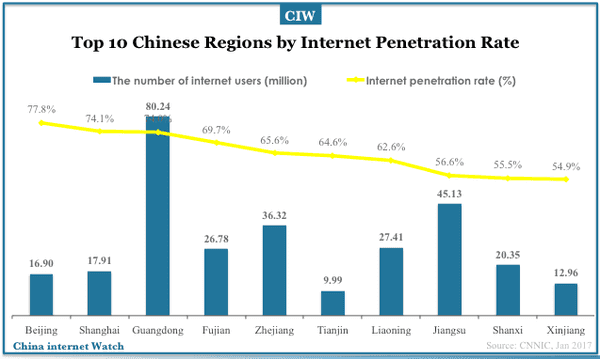 The top 5 categories of internet applications in China are instant messengers, news, search engines, videos, and music.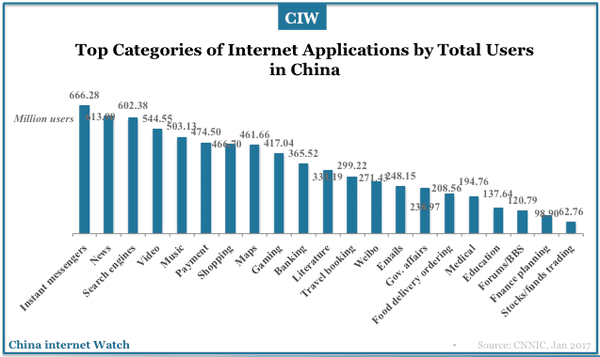 Rural areas have 201 million internet users, accounting for 27.4% of all China internet users.
60.1% and 36.8% of China internet users connect to the internet via desktop and laptop respectively; mobile devices 95.1%; tablets 31.5%; and, TV 25%.
Mobile online payment users continued to grow in 2016 and reached 469 million, an increase of 31.2% YoY. The proportion of China internet users making mobile online payment increased to 67.5% in 2016 from 57.7% in 2015. 50.3% of China internet users use mobile devices for payment in offline retail stores.
China internet car-hailing users reached 168 million, an increase of 46.16 million or 37.9% from June 2016.
45.3% of Chinese companies deployed online sales activities; 45.6% online purchase; and, 38.7% online marketing. The number of public listed internet companies in China reached 91 with a total market value of 5.4 trillion yuan. The combined market value of Alibaba and Tencent exceeded 3 trillion yuan in 2016.
Subscribe to CIW Weekly (e-newsletter) to receive China Internet Statistics Whitepaper (free) by email or get a more detailed China Internet Insights (E-Book) here.
If you are a CIW Premium subscriber, get your free China Internet Insights e-book here. And, all content in the whitepaper is included in this eBook.
Visit the next pages for earlier CIW whitepaper of China Internet Statistics.