Huawei and Xiaomi are now well-known mobile phone brands in China. Huawei has a history of over 10 years while Xiaomi has been on the market for 5 years. In 2014, their revenue had both over USD$11 billion.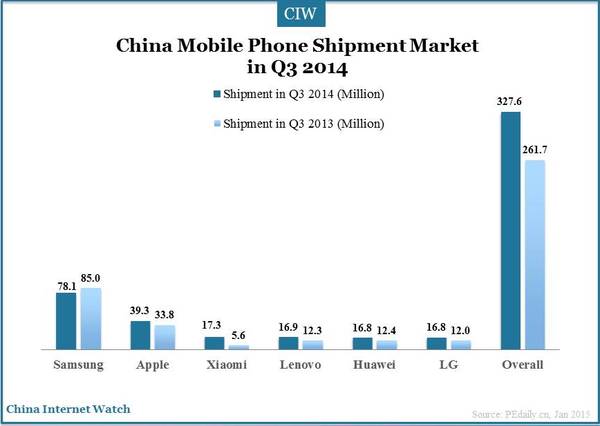 China's domestic mobile phone brands, such as Xiaomi, Huawei, and Lenovo were competing market share with Samsung. Influenced by decrease in smartphone market, Samsung suffered QoQ decreases in profit in 5 continuous quarters.
Xiaomi ranked the most innovative Chinese company (35th globally) in 2014 according to BCG's 2014 global innovation survey. Xiaomi is active on Weibo, Wechat, Baidu Tieba, QQ, and other online forums. When it was just founded, their staff spent a lot of time on forums, making comments, and posting. See Xiaomi's marketing success here.
Huawei consumer business group revenue totalled 12.2 billion, an increase of 30% YoY according to Huawei in 2014. Total shipment of Huawei smartphone was over 75 million units in 2014, up 45%. Huawei was ranked fifth in 2014 worldwide smartphone shipments.
Also read: Bloomberg: China Ranked 22nd World's Most Innovative Country